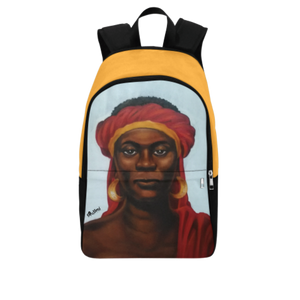 With Queen Yaa Asantewa on your back how you gonna question your power? She stood up to the colonizers when the men grew weary. You are just as courageous!
Who was she?
(15.5 Oz.Made from smooth and soft nylon material.)

*Lightweight and waterproof. Simple and fashionable backpack for outdoor traveling.

*Black stitch lines on the surface of backpacks.

*Perfect for holding a laptop and many books.

*Padded back panel and adjustable shoulder straps for extra comfort and easy carrying.