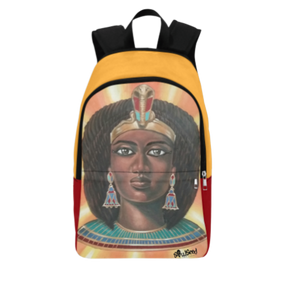 With Queen Ahmose Nofretari on your back reminding you of your divinity, how could you think of yourself as anything less.
Who was she?
Tribal leader Nzingha was from the Mbundu people of Angola and she was groomed to be a warrior by her father. She prevented the invasion of her land from the Portuguese with her military and diplomatic prowess for nearly 40 years. These are the stories that they don't teach us about in school. So, we take it upon ourselves to know their stories and keep their legacies going. This makes a great gift for Black History month.
(15.5 Oz.Made from smooth and soft nylon material.)

*Lightweight and waterproof. Simple and fashionable backpack for outdoor traveling.

*Black stitch lines on the surface of backpacks.

*Perfect for holding a laptop and many books.

*Padded back panel and adjustable shoulder straps for extra comfort and easy carrying.